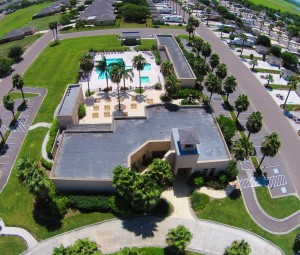 Retama Village is a luxury RV-oriented community in the Rio Grande Valley of south Texas. Within the gated age-restricted (55+) Village is a mixture of deeded RV lots with Coach Houses, Casitas with uncovered RV parking, "Port Houses" with (covered) RV ports, and single family housing without RV parking.  Travel trailers, fifth wheels and motorhomes are welcome.
More information about the community is available here:  Community Description
Interested in renting?
Retama Village welcomes renters and information regarding rental availability can be found at www.RetamaRentals.com.
Properties for Sale
This is a comprehensive list of all properties listed for Re-sale in Retama Village.  It includes both properties listed by Realtors and those listed For Sale By Owner.  Please click on the property link for more information and contact information.
 
$52,500
 
 3907 Lark, Mission, Texas  78572

SOLD

$47,500
 
 3908 Lark, Mission, Texas  78572
 $47,500
 4000 Lark, Mission, TX  78572

SOLD!

$53,900

 

   4001 Lark Drive, Mission, Texas  78572

New Photos Coming!

$56,000

  4006 Lark, Mission, Texas 78572

Price Reduced!

$47,500
4002 Mallard Drive, Mission, Texas  78572

SOLD

$39,900
4014 Lark, Mission, Texas  78572
$49,999
 
 4017 Lark Drive, Mission, Texas  78572
$47,500
 
    4019 Lark Drive, Mission, Texas 78572
$59,000
 
     4101 Lark Drive, Mission, Texas  78572

SOLD!

$49,900
 
 4110 Lark Drive, Mission, Texas  78572
$54,900
   3904 Mallard, Mission, TX  78572
$59,900
4003 Mallard Drive, Mission, Texas 78572
$52,900
 4015 Mallard Drive, Mission, Texas  78572
 $58,599
 
   2225 Osprey, Mission, Texas  78572
$54,900
 
 2221 Osprey, Mission, Texas  78572
 $54,500
 
 2219 Osprey, Mission, Texas  78572
 $49,999
 
    2214 Seagull Lane, Mission, Texas  78572

SOLD!

$49,900

2216 Seagull Lane, Mission, Texas  78572

SOLD!

$52,500
 
  2218 Seagull Lane, Mission, Texas 78572
$55,000
2212 Seagull Lane, Mission, Texas  78572

SOLD!

$62,000
4008 Mallard Drive, Mission, Texas  78572
$44,900
 
 3801 Mallard Drive, Mission, Texas  78572
 $74,900
 3713 Mallard Drive, Mission, Texas  78572
 $85,000
 
  3700 Pelican Way, Mission, Texas 78572
$69,900
 
3701 Pelican Way, Mission, Texas 78572
$90,000
 
 $74,900
3809 Pelican Way, Mission, Texas  78572

SOLD

$59,900
3804 Pelican Way, Mission, Texas  78572
$72,900
2201 Kingfisher, Mission, Texas  78572
$82,900
3613 Mallard Drive, Mission, Texas  78572
3802 Heron Way, Mission, Texas  78572

SOLD!

$198,500
 
3608 Hummingbird, Mission, Texas  78572

SOLD!

$294,900

 

 4106 Pelican Way, Mission, Texas 78572

Price Improved!

 $190,000
 
 4005 Pelican Way, Mission, Texas  78572
   $229,900
 

4000 Pelican Way, Mission, Texas  78572

SOLD!

$198,500
 

 3910 Pelican Way, Mission, Texas  78572

SOLD!

 $259,900
 

 3911 Pelican Way, Mission, Texas  78572

GREAT PRICE!

  $180,000